5% DISCOUNT
Take advantage of this discount by buying 6 bottles of this same wine.

Grape varieties

Origin

Soil

franc-sandy

Vinification

manual harvesting in small boxes, total de-stemming, maceration between 12 and 24 h at room temperature, degreening at 15ºC, 24-day alcoholic fermentation between 18 - 20ºC with native yeast

Ageing

7 months in stainless steel tanks

Characteristics

Properties

Alcohol: 13,7 %, Ph: 3,12, SO2: 64 mg/l, Residual sugar: 2,82 g/l

Also appears in:

Download

Product sheet (PDF)
the winery
Do ferreiro,
Spain, Galicia, Rías Baixas, Meaño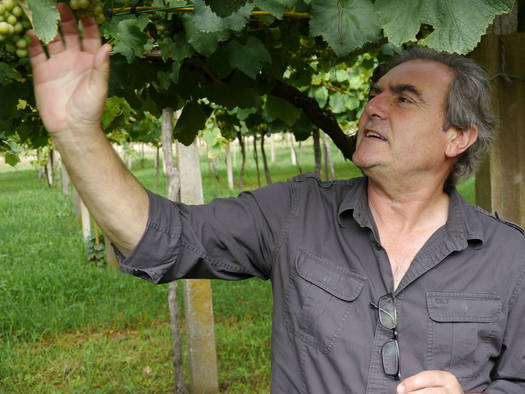 To speak of Gerardo Méndez is to speak of Albariño grapes. Gerardo Méndez, the founder of Rías Baixas denomination of origin, works from home, from his laboratory/winery. His vineyards, the oldest in the denomination of origin, are in an unbeatable location in terms of altitude and orientation. He seeks purity and authenticity in his wines, and he instills them with a strong personality (indigenous yeasts, etc.). However good his wines are, though, Gerardo Méndez is an even more wonderful person.
Other wines from Do ferreiro
Other traditional wines from galicia
Cookies Policy
We use our own and third-party cookies to improve our services and show you advertising related to your preferences by analyzing your browsing habits. If you go on surfing, we will consider you accepting its use. You can change the settings or get more information in our "Cookies Policy".