Grape varieties

Origin

Soil

clay-limestone, south-east exposure

Vinification

vintage manual, direct pressing, alcoholic fermentation in stainless steel tanks with indigenous yeasts

Ageing

24 months in 1 and 2 wine oak barrels, without sulfur added

Characteristics

Properties

Alcohol: 12 %, SO2: <20 mg/l, Residual sugar: <2 g/l

Download

Product sheet (PDF)
the winery
Yann durieux,
France, Burgundy, Messanges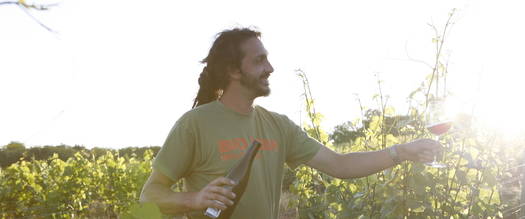 After working for more than 10 years at the Prieuré-Roch winery, Yann Durieux, a nice guy with an offbeat style and a charming smile, recovered his family's vineyards (3 ha) and a struggling winery, Recrue des Sens, to set up his own project. This committed winemaker's policy is simple but rare in the area: he is a natural wine fundamentalist. But make no mistake: behind his super cool appearance, Yann is a meticulous, determined, hard-working perfectionist, which makes him the future of Burgundy. Watch out, he is pure talent!
Other wines from Yann durieux
Other natural wines from burgundy
Cookies Policy
We use our own and third-party cookies to improve our services and show you advertising related to your preferences by analyzing your browsing habits. If you go on surfing, we will consider you accepting its use. You can change the settings or get more information in our "Cookies Policy".